May 30th, 2014
by admin
0
0
For Immediate Release: May 30, 2014
Rand Eye Institute offers Hurricane Eye Safety Tips in an Effort to Reduce and Prevent Pre- and Post- Storm Eye Injuries
Deerfield Beach, Fla. — In response to the rising number of hurricane related injuries over the past hurricane seasons, the Rand Eye Institute, a comprehensive eye care and surgical facility in Deerfield Beach, is assisting South Florida residents anticipate and prepare for an increasing number of storm related eye injuries. Rand Eye Institute's "Hurricane Eye Safety Tips" can be found at: randeye.com
While a number of injuries are directly caused by the storm's landfall and deteriorating weather conditions, the majority of reported incidents are caused indirectly, occurring as a result of pre- and post-storm preparation and recovery efforts. Of these, 90 percent are avoidable. By taking steps laid out by Rand Eye Institute, before, during and after a storm, many of these potential hazards can be reduced and potentially prevented.
"Eye injuries have increased in past storms. Anticipating and preparing for risks that can potentially lead to an eye injury should be part of any emergency disaster plan," says William J. Rand, MD chief surgeon and medical director of the Rand Eye Institute.
Because flying fragments of metal, wood, concrete and other building materials, along with windblown dust and debris account for the highest number of eye injuries, one of the simplest ways to prevent eye injuries is to wear protective eye goggles or safety glasses, which should be included with other hurricane supplies. Wearing protective eyewear, even when putting up shutters, removing debris or working with both hand and power tools, can reduce the risk of injuring the eye.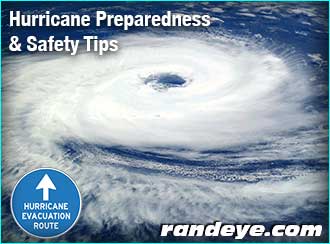 The Rand Eye Institute also recommends:
Avoid rubbing or touching irritated areas of the eye – especially if you suspect the presence of debris particles or chemical solutions. Wash and rinse with clean, preferably bottled water.
Having essential medications, including preservative-free eye drops on hand
Sterilizing contact lenses more frequently – especially when dealing with unsanitary conditions
Current prescription eye glasses and copy of original prescription
Preparing a list of all physician emergency contact numbers, including your ophthalmologist and/or optometrist
Seeking immediate medical attention if you experience a serious eye injury or problem.
Call 954-782-1700 or toll-free 1-800-782-1711
With a compliment of Board Certified Ophthalmologists, who are on call to address your most immediate concerns, the Rand Eye Institute, an emergency generator-powered facility, provides 24-hour emergency care, with an on-site, fully licensed and Joint Commission accredited ambulatory and surgical center, capable of treating a full-range of eye injuries.
Specializing in refractive surgeries such as custom no-flap laser vision correction, lens exchange procedures, custom laser cataract surgery, vitreo-retinal surgery and corneal transplantation; the Rand Eye Institute is a comprehensive eye care and surgical facility, which offers a full-range of patient services, including routine eye examinations, treatment for dry eye syndrome, advanced testing and sophisticated ophthalmic treatments for various eye conditions. The Rand Eye Institute's compliment of qualified, Board certified doctors and professional staff provide patients with quality and compassionate care.
Located on the first floor is the Rand Surgical Pavillion, a state-of-the-art fully licensed and Joint Commission accredited surgical facility, which offers the highest level of surgical care, surpassing nationally accepted standards for safety, sterility, technology, and quality outcomes.
Founded in 1979 by William J. Rand, M.D., one of the most experienced eye surgeons in the country, the Rand Eye Institute is centrally located in Southeast Florida at 5 West Sample Road in Deerfield Beach, FL 33064. For more information about the Rand Eye Institute, please visit www.randeye.com or call 1-800-782-1711.
About The Author