Rand Surgical Pavillion
Located within the Rand Eye Institute, the Rand Surgical Pavillion is a state-of-the-art ambulatory surgical center that surpasses all nationally accepted hospital operating room standards for safety, sterility, technology, and quality outcomes.
Staffed by a team of registered nurses and licensed anesthesiologists to ensure an elevated standard of care in all its vision correction procedures, as well as corneal transplantation and cosmetic eye surgery. Rand Eye Institute's, Rand Surgical Pavillion was modeled to serve as a prototype for 21st-century surgical environments. Its mission is to provide the highest level of surgical care in an environment of quality and compassion.
Fully-licensed by the State of Florida and the Federal Government, Rand Surgical Pavillion is regulated, inspected, licensed, and certified by Agency for Health Care Administration (AHCA) and is accredited by the Joint Commission.

Rand Surgical Pavillion has been accredited by the Joint Commission
According to House Bill 1175
Effective July 01, 2016. Transparency in Health Care.
RSP Fees
Cataract 66982/66984 $1850
YAG laser 66821  $625
Pterigium w/out graft 65426 $1500
Pterygium w/graft 65420 $1850
Keratoplasty 65755  $2500
Iridotomy 66761 $625
Cat exchange 66986 $1850
Lesion ex Cornea 65400 $1000
Revision of wound 66250  $1850
Anterior synechiae  65870  $1850
Anterior Vitrectomy  67010  $2500
Trabeculectomy  66170  $1850
Keratoprosthesis  65770  $1500
Cat ext dislocated 66930  $2500
LASEK $1850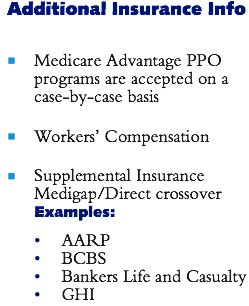 Insurance Companies
Medica Healthcare (Retina Only)
Traditional Medicare
Traditional Medicaid
Florida BCBS PPO
Traditional
PPC (PPO)
Network Blue
Advantage 65
Medicare Advantage PPO
GHI
City of Margate
Aetna
United Health Care
Cigna
Humana (Except for Marketplace policies)
Preferred Care Partners
Participating: Dr. William Rand, Dr. Allison Rand, Dr. Carl Danzig
Third Party Administrator (TPA)
FHA/Florida Health Choice PPO and Select Network Multiplan
Beech Street
Best Choice
Dimension
Coventry / First Health / CCN
TPA Governs extensive list of insurance companies, too many to list. (Please call to verify eligibility.)
Variety of insurance companies offer out-of-network benefits; we will call and verify each patient's benefits.
If you do not see your insurance company listed here, please be sure to call us, as there are many other companies with out-of-network benefits.
According to Governor Scott's house bill 1175 regarding transparency in healthcare pursuant to section 395.301(1)(a)1-4, Florida Statutes the following information is available for our patients:
We have financial payment plans offered through CareCredit for those who qualify. Patients are required to apply directly to CareCredit via online or telephone.  We do not offer charity care or financial assistance.   All fees are required to be paid at time of service. Services provided in the ASC will have three fee components. The first will be for services provided by the surgeon, the second will be for services provided by the anesthesiologist and the third is for the use of the ambulatory surgical center. Patients will receive three separate bills.  The healthcare providers may or may not be a participating provider with the patients insurance. It is the patient's responsibility to contact the provider's office to verify if the physician/facility is in network or out of network with their insurance carrier. A personalized written estimate for each procedure performed plus the estimate for the use of the ASC will be given to each patient prior to the procedure. Dr. Gil Epstein, our consulting ocularplastic specialist, will discuss their physician fees directly with the patient.
ATTENTION:
Patients and prospective patients; the service bundle information is a non­personalized estimate of costs that may be incurred by the patient for anticipated services. Actual costs will be based on services actually provided to the patient. https://pricing.floridahealthfinder.gov/
List of names, addresses, and phone numbers of health care practitioners and medical practice group contracted to provide services within the Rand Eye Institute, grouped by specialty or service who will bill separately. This includes anesthesiology groups, pathology groups, and physicians/specialists:
Anesthesia Providers
Richard Kushnick, MD
Scott Stein, MD
Larissa Tsipis, MD
Teri Bean, CRNA
Lisa Mills, CRNA
Sean Norden, CRNA
Jessica Worley, CRNA
Address:
5 West Sample Rd.
Deerfield Beach, FL 33064
954-782-1700
Ophthalmology Plastic Surgery
Gil A. Epstein, MD
Ophthalmology Plastic Surgery
Ft. Lauderdale Eye Institute
850 S. Pine Island Rd #A100,
Plantation, FL 33324
954-741-5555
Pathology provider
Labcorp
1855 W. Hillsboro Blvd.
Deerfield Beach, FL 33442
1-800-845-6167