We live in the land of the free, so we get to celebrate our love for America every year on the 4th of July. We barbecue, swim, play sports, get together with friends and family, and traditionally, we watch fireworks. Many of us take part in the setting off of fireworks. Know the law where you live concerning the use of personal fireworks, and know one other thing for sure: The law of averages could make you a statistic.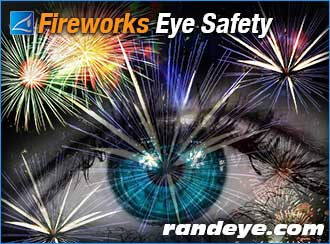 Thousands of people in the U.S. every year, many of them children, suffer eye injuries caused by fireworks. In the most severe cases, fireworks can rupture the globe of the eye, cause chemical and thermal burns, corneal abrasions and retinal detachment — all of which can permanently cause eye damage and affect vision.
In the year 2014, more than 10,500 fireworks-related injuries required treatment in an emergency room in the U.S., according to a recent fireworks injury report from the U.S. Consumer Product Safety Commission. Roughly 1 in 5 of those fireworks injuries was to the eyes and nearly half of those injured were bystanders, with children being frequent victims.
Here are Some Handy Fireworks Safety Tips
The best way to avoid a potentially blinding fireworks injury is by attending a professional public fireworks show rather than purchasing fireworks for personal use.
Respect safety barriers and view fireworks from at least 500 feet away.
Do not touch-unexploded fireworks; instead, immediately contact the local fire or police department to assist. You should never touch or pick up previously exploded fireworks debris.
Remember, pets don't enjoy fireworks like people do. Explosions are much louder and more frightening to dogs and cats, so it's best to leave your pet with friends in a safe environment rather than bringing them to a fireworks display.
**PLEASE NOTE FOR EMERGENCY EYE CARE – OUR OPHTHALMOLOGISTS ARE ON-CALL 24/7
For those who decide to purchase consumer fireworks in states where they are legal, we recommend the following safety tips to prevent eye injuries:
Never let young children play with fireworks of any type, even sparklers.
People who handle fireworks should always wear protective eyewear that meets the parameters set by the American National Standards Institute and ensure that all bystanders are also wearing eye protection.
The very best tip: Leave the lighting of professional-grade fireworks to trained pyrotechnicians.
What to do in the event of a fireworks eye injury:
Seek medical attention immediately.
Do not rub your eyes.
Do not rinse your eyes.
Do not apply pressure.
Do not remove any objects that are stuck in the eye.
Do not apply ointments or take any blood-thinning pain medications such as aspirin or ibuprofen.
Your doctor or eye professional is the most qualified, trained professional who can offer you the best assistance. Remember, safety is always first when it comes to your eyes. You have but ONE SET, so please take care of them.
**Should you experience a medical eye emergency, such as an injury or trauma to the eye or to the area surrounding the eye, infection, sudden eye pain or decreased vision, please call our office immediately at 954-782-1700. Our ophthalmologists are on-call 24/7 and will contact you as soon as possible.

In the event of severe trauma to the eye, or if you believe you have an extreme time sensitive eye emergency; call 911 or go to the nearest hospital emergency room while waiting for our doctor to return your call. This would avoid a delay in critical care in case for any reason our response is not immediate.