October 24th, 2016
by admin3
0
0
Happy Halloween: Dressing you up with helpful suggestions and important safety tips relating to your child's vision, from; Rand Eye Institute and The American Academy of Pediatrics.
The Halloween we remember as kids is long gone. Today, in this all-consuming world of multi-tasking, mobile electronics and Pokémon chasing, our kids need to be especially vigilant and aware of their surroundings during Halloween. It's also up to us as parents to make sure that the trick-or-treaters get only treats. So with that in mind, here are some helpful Halloween tips for kids of all ages: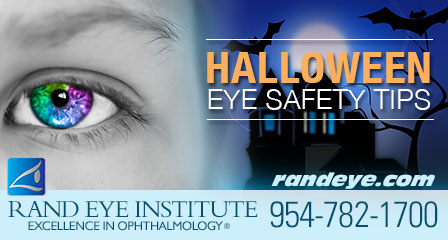 I'm Happy to See You
Masks can block or restrict your child's vision, consider non-toxic makeup instead. Coming up with an original idea for makeup is a great way to engage your child about the creation of their own costume while helping them to be safer outside.
Lenses and Safety Senses
When it comes to vision, never allow the wearing of decorative contact lenses; colored contacts should always be prescribed by your eye doctor. Obtaining decorative contact lenses without a prescription is both dangerous and illegal and may cause eye infections and/or serious eye problems, leading to permanent vision loss.
Dress Up for Safety
Plan costumes that are bright and reflective. Always add reflective tape or striping to costumes, a flashing necklace or light, and don't assume all costumes have to be dark. Creating light and reflection alerts an approaching vehicle to slow down for trick-or-treaters. When shopping for costumes and accessories, always look for a label clearly indicating that they are flame resistant. Also, make sure shoes fit well and that costumes are short enough to prevent tripping or getting caught or entangled.
No Cane Do
Be careful of too many accessories like a cane, a sword or a stick. If your child has one, make sure it's not sharp or too long. Your child could be hurt if they stumble or trip, and they should be using their free hand to hold a working flashlight that has fresh batteries inside.
Be The King of The Mall
And lastly, Trick or Treating doesn't have to be in the neighborhood. Check with your local shopping mall, many offer safe and well-lit trick-or-treat-streets inside the mall, or consider hosting a Halloween party for the kids at your house.
So use your Eye-Q and have a safe and Happy Halloween from all of us, at Rand Eye Institute.
About The Author