Fleet Week is here in South Florida and it brings to mind a patient of Rand Eye Institute who today is soaring high. Here's his story:
It's not often that a growing boy will turn down the chance to dive into a huge summer picnic basket, but that's exactly what a young Steven Hollender did. Attending an air show with his grandparents many years ago, he was called away to lunch. "Not now. I want to see the planes", shouted Steven.
Ever since that day, and even before, Steven's career has been looking up. From as far back as Steven's mother Carmelann Hollender can remember, "He always had an interest in planes and spaceships."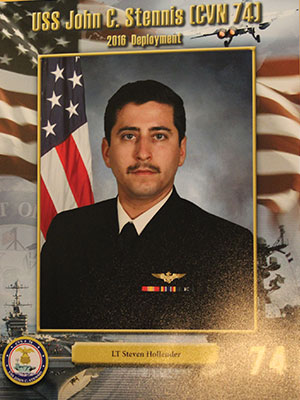 When he graduated from Hunterdon Central Regional High School in Flemington, NJ in 2006, he announced to the family that he wanted to fly and knew just the flight school he planned to attend: Embry-Riddle Aeronautical University in Daytona Beach, FL, where he was awarded a three and a half year scholarship.
He graduated from Embry-Riddle with Dean's List honors three of his four years. Before he could become a pilot, though, Steven had one obstacle to overcome: His less than perfect vision was preventing him from sitting in the #1 seat. At his grandmother Joan Di Maio's request, her optometrist, Dr. Steven Koganovsky from Margate, FL made a personal call to Rand Eye Institute's Medical Director, Dr. William J, Rand. Dr. Koganovsky asked if he would please see Steven, "I want you to treat Steven like he's your grandson", Dr. Koganosky told Dr. Rand, and that's exactly what he did.
Steven came to the Rand Eye Institute on July 7, 2008, where Dr. William J. Rand had the honor of personally performing the Advanced Surface Laser Procedure, or No-Flap LASIK on Steven, which restored his vision to crystal clarity, a requirement to fly for the US Navy. Almost a decade has passed and Steven's vision keeps his eagle eyes trained on his passion.
While Steven's future was looking up, today he's looking down, from the cockpit of an F-18 fighter jet, where he's a pilot in the U.S. Navy. Steven recently returned from deployment in the South China Sea and is now living back in California.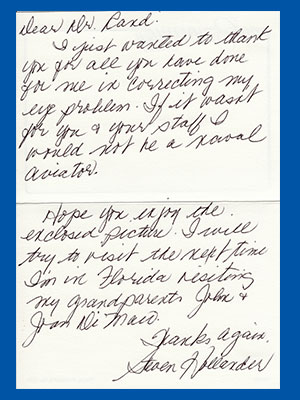 "Dr. Rand, I just want to thank you for all you have done for me in correcting my eye problems," said Steven. "If it wasn't for you and your staff, I would not be a naval aviator." Steven's mother Carmelann backs him up, "Without Dr. Rand's help, it wouldn't have been possible."
Now that Steven's deployment overseas has ended, he's back at his home base, The Naval Air Station in Lemoore, CA, where every August, thousands of young boys just like Steven once was, put their lunch to the side to be mesmerized at the Wings over Camarillo air show.
Thank you, Steven, for trusting Dr. Rand with your LASEK at Rand Eye Institute. We're honored to have played a small role in your vision, launching your career as a fighter pilot. We salute YOU!
For more info on the Ft. Lauderdale Fleet Week schedule here.