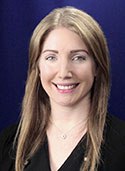 Dr. Allison Rand completed her undergraduate education at the University of Miami in Coral Gables, Florida. She received her medical degree from the University of Miami Miller School of Medicine and completed a postgraduate internship in internal medicine at Jackson Memorial Hospital.
Dr. Rand went on to complete her residency in ophthalmology at the State University of New York, Downstate in Brooklyn. She completed a fellowship in cornea, external diseases and refractive surgery at The Mount Sinai School of Medicine in New York, where she studied under the mentorship of Penny Asbell, M.D.
Dr. Rand is the director of Ocular Surface Diseases at the Rand Eye Institute. She is experienced
in the treatment of dry eye disease, especially those patients who have been unable to have symptom relief with traditional therapies. She is well-versed in the diagnosis and treatment of infectious corneal diseases. She has significant knowledge in the evaluation and treatment of all stages of keratoconus and forms of irregular astigmatism. While at the Mount Sinai Hospital in New York, she was a primary investigator in the FDA clinical trial evaluating the safety of corneal collagen cross linking, a novel therapy for keratoconus.
Dr. Rand specializes in cataract surgery for the correction of astigmatism and presbyopia, laser vision correction with No-flap LASIK and advanced surface procedures, corneal transplantation including penetrating, DSEK, and lamellar keratoplasty, pterygium surgery, and anterior segment reconstruction.
She maintains a dedication to international surgical efforts, and participated in a mission to Vietnam in association with the Hawaiian Eye Foundation, where she performed adult and pediatric corneal transplants and taught advanced surgical techniques to local ophthalmologists. While in Ho Chi Minh City (Saigon), Dr. Rand also lectured at the First Joint Meeting Cornea Subspecialty Day at the Vietnamese American Ophthalmology Symposium.
She is licensed to practice medicine and surgery in the State of New York and Florida. Board certified by the American Board of Ophthalmologists. She is fluent in English and Spanish. In her free time she enjoys ice skating, downhill skiing, and international travel.