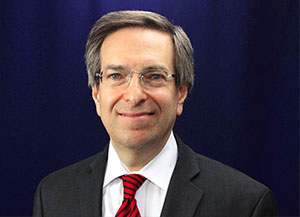 Dr. Robert S. Nagler is one of Rand Eye Institute's general ophthalmologists and skilled refractive surgeons. For more than 15 years, he has embraced the state-of-the-art vision correction procedures performed in the Rand Surgical Pavillion located within the Institute.
Motivated by the positive impact he leaves on his patients' lives and their lifestyles, Dr. Nagler joined the Rand Eye Institute from a private practice in Ophthalmology in Huntington, NY, where he also maintained a position as an attending Physician in Ophthalmology at Huntington Hospital.
Dr. Nagler received his undergraduate degree in Biology, graduating summa cum laude and Phi Beta Kappa from the University of Pennsylvania in 1980. He received his MD degree from the New York University School of Medicine in 1984.
Dr. Nagler initially enrolled in an Internal Medicine residency program at Boston City Hospital. During his internship, he was exposed to and embraced the life altering results of cataract and refractive surgery, and decided to redirect his passion for bettering patients' lives as an ophthalmologist. He graduated from the ophthalmology residency program at Boston University in 1988.
Arriving in South Florida from Long Island, New York in 1996, Dr. Nagler joined the staff of the Rand Eye Institute in pursuit of the latest technological advancements and newest ophthalmic procedures. Seeking to broaden the experiences private practice afforded him, he also became an attending physician in Ophthalmology at North Broward Medical Center.
Experienced in laser photocoagulation procedures for treating glaucoma and other conditions that affect the retina, Dr. Nagler has extensive practice experience in major ophthalmic surgical procedures including cataract extraction and advanced intraocular lens implantation. Dr. Nagler has also assisted other Rand Eye Institute ophthalmic surgeons in cornea transplant surgeries, and the newest DSAEK procedures.
Dr. Nagler is a Board Certified Ophthalmologist and a Diplomate of the National Board of Medical Examiners. He is a fellow of the American Academy of Ophthalmology, and lectures at optometric continuing education series semi-annually. Most recently, Dr. Nagler attended Wilmer Eye Institute of Johns Hopkins Medical School's Current Concepts in Opththalmology conference in Vail, CO.
A resident of Boca Raton, Dr. Nagler is married and has a son. Together, the family travels frequently, and enjoys being active outdoors. When he's not skiing or involved with his son's extracurricular activities, Dr. Nagler follows and cheers for his home baseball team, the NY Mets.