Ah, Spring. What a time to be a sports fan. But while you have your eye on your favorite team's schedule, don't drop the ball on Sports Eye Safety. Keep these eye safety tips handy:
While each sport has specific recommendations for equipment that helps prevent bodily injuries, they all, without exception, recommend sports eye guards for every player.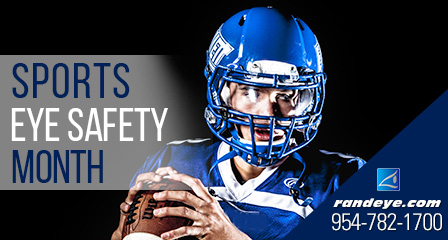 Prescription glasses, sunglasses and even occupational safety glasses do not provide the eye protection one needs* while playing recreational sports.
Baseball: a batter's helmet and a faceguard for catchers made of polycarbonate material is a must.
Basketball: players run the risk of an eye socket fracture or scratches on the cornea without sports eye guards.
Soccer: players could suffer an inflamed iris or swollen retina if they don't put on proper eye protection.
Hockey: players MUST wear polycarbonate masks and sports eye guards to help prevent traumatic injuries.
Football: wearing a helmet with a polycarbonate shield attached to the faceguard is the best defense.
ALL sports participants run the risk of an opposing player's finger in the eye without the proper eye protection. So remember, if you or your young ones are playing sports, make sure proper eye safety equipment is a part of the uniform.
*source: Prevent Blindness
**PLEASE NOTE FOR EMERGENCY EYE CARE – OUR OPHTHALMOLOGISTS ARE ON-CALL 24/7
About The Author