November 21st, 2016
by admin3
0
0
It's Diabetic Eye Disease Month and Rand Eye is LOOKING out for you. DYK that diabetes is one of the leading causes of irreversible blindness in the United States and the most common cause of blindness in people younger than age 65?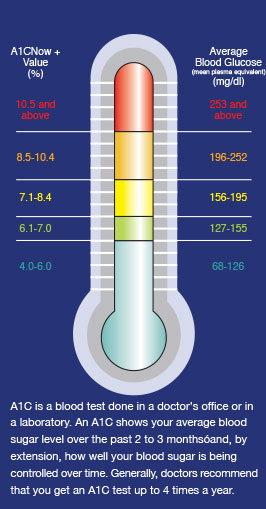 It doesn't have to be that way if you know your Rand EYE-Q. There is a test commonly known as "A Report Card for Diabetes Control" called The Hemoglobin A1C Test, an important test that measures your blood sugar intake levels providing your true average.
The Hemoglobin A1C Test can tell you just how well you're controlling your diabetes. By keeping your diabetes under tight control, you can significantly reduce the risk of losing your vision to diabetic eye disease. Think of the hemoglobin A1C test as if it were averaging all of your blood sugar readings from the previous three months. You should have the test three to four times a year so that you can monitor and modify your diabetes management plan.
Your Hemoglobin A1C Test reading should be 7.0 or less. Hemoglobin A1C readings above 8.0 are not as good. When the readings are 9.0-12.0 or above, the risk and severity of diabetic complications increases proportionately.
Don't become a statistic. The American Diabetes Association estimates that 86-million people in the U.S. have pre-diabetes and 9 out of 10 of them don't even know they have it. Without working to prevent it, 15-30% of will develop type-2 diabetes within a year, which could lead to permanent vision loss. Diabetes can also increase the risk of cataracts and glaucoma, so do your best to feel your best. In our next blog, we'll share the facts on diabetic retinopathy. #RandEYE-Q #diabetes #diabetesawarenessmonth
About The Author