Physician Referral Program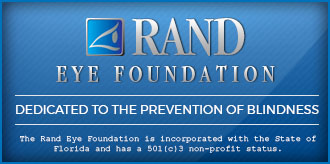 The Rand Eye Foundation supports research efforts in the development of new treatments and surgical procedures related to eye care. It is incorporated with the State of Florida and has a 501(c)3 non-profit status.
The Rand Eye Institute is a leader in LASER Vision Correction, No-Flap LASIK, and Cataract Surgery Offering State of the Art Services for the Majority of Eye Conditions utilizing the most advanced technology.
Laser Vision Correction and Laser Cataract Surgery: Most Advanced High Definition Technology
Combining the expanding number of vision-correction options available to nearsighted, farsighted, astigmatic and presbyopic patients. Including; No-Flap Laser Vision Correction, laser cataract surgery with LenSx and Premium-Enhanced Cataract Surgical Procedures, such as Restor and Tecnis lenses, Rand Eye Institute's new LIFESTYLE VISION procedures provide a personalized approach to vision correction, geared towards optimizing individual lifestyles. Read more…
Which procedure is right for you?
With so many options available at the Rand Eye Institute, we suggest you schedule a consultation with one of our eye care specialists. To learn more about your options and which procedure has the greatest potential of giving you, your best possible vision.
You can also contact our practice to learn more about our vitreo-retinal treatments, with one of south Florida's experienced retinal specialists, Carl Danzig, MD. The Rand Eye Institute's department of vitreo-retinal surgery is among the best equipped in the South Florida area.
Custom Laser Vision Correction and the No-Flap Technique
With the most advanced systems for laser vision correction, virtually eliminating the need for performing a LASIK flap, the Rand Eye Institute, a leader in ophthalmology, is pleased to offer greater flexibility in developing a more personalized approach to laser vision correction. Read more…
Rand Eye Institute makes it affordable, convenient payment options and plans
Payment Options and Plans
Cash or Check

Credit Cards
Monthly Payment Plan
Ask about our interest free Monthly Payment Plans…
Medical Insurance Providers
We participate with a variety of medical insurance providers, to learn more please Click Here…
The Rand Surgical Pavillion
Highly regarded as one of the finest surgical facilities in the south Florida area, the surgical pavillion is licensed by the state of Florida, inspected and certified by the Joint Commission on hospital accreditation. Read more…
Complimentary Transportation in the tri-county area, Miami-Dade, Broward and Palm Beach counties.
Call Us To Schedule an Appointment 954-782-1700