September 21st, 2016
by admin3
0
1
The phrase "See you in September" has special meaning for us. Of course we're happy to see you all year long, but September is designated as Healthy Aging Month, so here are some ways to keep your eyes healthy, so that we can see you every month of the year.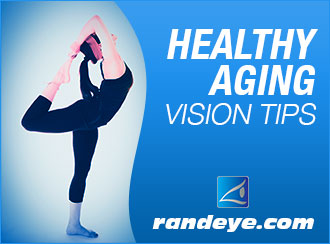 Move or Lose (Sight of) It
Probably THE most helpful tip to healthy aging is staying healthy. While we know that keeping your body moving is good for your physical wellbeing, it's also good for your vision. The American Academy of Ophthalmology reveals that regular exercise helps keep our weight in the normal range, reducing the risk of diabetes and diabetic retinopathy. This includes gentler exercise like walking, yoga, tai chi, stretching and breathing. So come on feet, start walkin'.
The Best Veggies for Best Vision
Eating your vegetables, especially carrots, is not just a fable; they really do contribute to healthy vision. The vitamins in carrots and other brightly colored vegetables help keep your eyes healthy and your vision strong with the antioxidants they provide. Lutein and zeaxanthin are two potent antioxidants that studies have shown can help prevent eye diseases like macular degeneration. So it turns out mom was right all along.
Stay Focused on Eye Health
As you age, be aware of the warning signs of age-related eye health problems that could cause vision loss. Since many eye diseases have no early symptoms, you may not notice the changes to your vision until the condition is quite advanced. While you may realize that although glucose is an important source of energy for the body's cells, TOO MUCH glucose in the blood can cause damage to many parts of the body, including the heart, kidneys, blood vessels and the small blood vessels in the eyes. The American Academy of Ophthalmology shows how this could lead to Diabetic Retinopathy. Regular eye exams offer early detection of disease and can significantly improve your chances of maintaining good eye-health as you age.
Give a Little & Get More Back
It feels good to give and it's good for you. Volunteering can take on many forms, such as teaching, nursing or childcare. Consider supporting a local symphony by ticket taking at the door, helping your church or synagogue at an event, singing in the choir, answering phones at a non-profit or mentoring someone. What does this have to do with healthy vision? Research shows that volunteering also contributes to good health. The results of more than 30 studies show that older people who volunteer enjoy longer lives, function at a higher level and have lower rates of depression and heart disease. So whatever cause gets YOUR blood pumping, it's the cause to an effect: better overall health and that means healthier eyes too.
About The Author