November 4th, 2016
by admin3
0
0
November is designated as Diabetic Eye Disease Month and if you have diabetes or are newly diagnosed; know that you're at risk of vision loss. What is the cause and who is most at-risk? Let's take a look at these important facts and outline ways for you to keep from becoming a statistic.
Diabetes Could Lead to Vision Loss
Diabetes is a disease that affects blood vessels throughout the body. Unfortunately, diabetic damage in the eye, also known as diabetic retinopathy, leads to vision loss when these blood vessels leak fluid or bleed. There is laser treatment that can help control the swelling or growth of abnormal blood vessels, and another treatment that involves injections either in or around the eye. It is recommended that you see your eye care specialist to help you decide which treatment is right for you.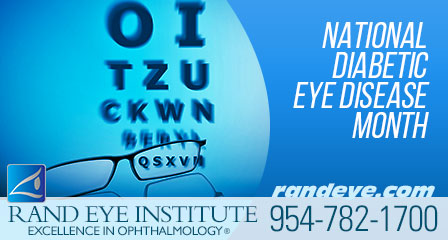 Who is most at risk?
African Americans, Native Americans, Alaska Natives, Hispanic/Latinos and older adults with diabetes are at an especially higher risk of developing diabetic eye disease.
How will EYE know?
Be proactive when it comes to your vision by scheduling a comprehensive dilated eye exam, performed by an ophthalmologist at least once or year. Early detection and timely treatment are extremely important in preventing vision loss to those highly at risk. Diet and exercise also play an important role in the overall health of those with diabetes.
Beat Diabetes by Doing This
If you are diabetic, be sure to monitor and control your blood sugar, it's the most effective way to avoid damage and loss of vision as well as damage to the rest of your body. A hemoglobin A1C test will assist you and your physician in keeping a report card on your blood sugar control. Read more about this in our next blog.
About The Author