October 13th, 2016
by admin3
0
1
See the Good Things We Do, With Your Own Eyes® – On World Sight Day
Thursday October 13th is World Sight Day, but why wait for one day out of 365 to look out for your vision when you can do it everyday? Let's get out and take an active role towards the care and prevention of eye diseases. Your eyes need to be at the top of your list when it comes to your health and how it affects your lifestyle that's why this year's theme is Universal Eye Health.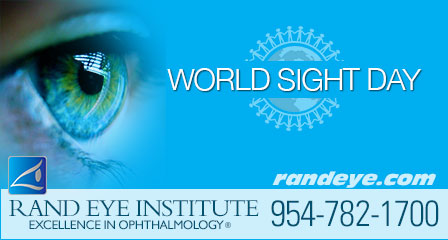 World Sight Day (WSD), an international day of awareness, focuses attention on the global issue of avoidable blindness and visual impairment.
Know Your Rand Eye-Q:
4 out of 5 blind people are needlessly impaired, that means 80% of blindness is avoidable.
About 285 million people are visually impaired worldwide. Preventable causes are as high as 80% of the total global visual impairment burden.
90% of the world's visually impaired people live in developing countries.
Don't Become a Statistic. Keep Your Vision in Check
The American Academy of Ophthalmology recommends that you have a baseline eye exam at age 40 to help identify signs of eye disease at an early age. If you're 65 or older, you should have your eyes checked every year or two for signs of the eye-related diseases.
Click Below to Schedule Your Eye Exam Today
Take the first step to clear vision at Rand Eye Institute.
About The Author