POSTED ON
August 17th, 2017
- POSTED IN
Eye Safety
Rand Eye Institute Urges Community to Protect their Eyes from the Solar Eclipse on August 21st, 2017.
As the date nears, it is very important that everyone understand the importance of protecting and even avoiding looking at the partial solar eclipse. It can cause serious eye problems- this is not a myth.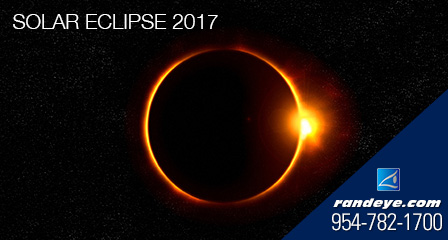 "Here in Florida, we will only experience the partial solar eclipse, and not the totality phase. Therefore, it is not safe to view this phenomenon at any time without properly certified eclipse glasses.* Regular sunglasses, even very dark ones, are not sufficient to prevent eye damage. If there is any concern, it is better to watch the eclipse through an online stream such as www.nasa.gov/eclipselive" cautions Allison L. Rand, MD, ophthalmologist and cornea specialist at Rand Eye Institute.
According to NASA, South Florida will experience about 80% coverage of the moon in front of the sun (partial solar eclipse) around 2:59pm-its peak time. The partial eclipse will be visible from approximately 1:30pm – 4:30pm EST.
Special Note for School-Aged Children, Teachers & Parents
With school back in session, parents and teachers of children should take extra care to protect young children from the sun's harmful rays in this extraordinary circumstance. The sudden change in illumination would instinctively cause a young child to look up at the eclipse. It is recommended for the younger age group, who might not follow instructions, to completely avoid exposure. For older children, education is key.
Broward County School District has ordered all outdoor activities to be moved inside during the hours of 1:30-4:30 pm.
* The American Academy of Ophthalmology has teamed up with the American Astronomical Society on the recommendations for certified eclipse glasses and other viewing tips, Visit www.aao.org.
For more information, please contact our Community Relations department at 954-782-1700.