April 11th, 2017
by admin3
0
0
Most people believe that the best money spent is money that saves you from having to spend MORE money. So making a small purchase of just $20 to $40 to guard against eye injury or blindness could be the best EYE-vestment you'll ever make.
With spring here and crisper weather in the air, the parks are filling up with kids and adults in their evening softball and soccer leagues. But before you slip on that baseball glove or new pair of cleats, don't run the bases without running to the store first for proper eye protection.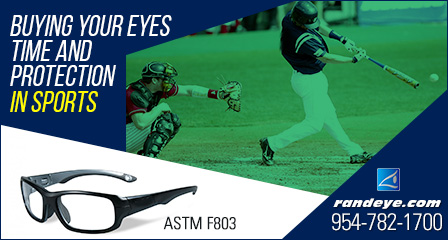 Here are some guidelines to help you choose proper eye guards:
Any eye guard or sports eye protector should be labeled "ASTM F803 approved". This is the code for eyewear that gives you the highest level of vision protection. Put this code in the notes section of your smart-phone so that you can refer to it when you shop and check the package to see if the eye protection you chose has been approved for sports use.
Don't scrimp or save on eye guards that don't have lenses. Only "lensed" protectors are recommended for sports use. Choose eye guards where lenses stay in place or pop out in an accident. Make sure they don't pop in, which can damage your eyes.
Eye guards should be anti-fogging for clearest vision. Others may have side vents that let air circulate, keeping the lens surface clear.
Padded or cushioned eyewear may cost a bit more, but the more comfortable it is on YOU the more comfortable YOU'LL be, and less likely to toss them to the bench.
Until you get used to playing sports wearing eye protection, it may feel a bit strange or uncomfortable, but hang in there, you only have one set of eyes – SEE that you protect them the best way possible.
And lastly, always try on different brands and sizes of eyewear for comfort and protection. There's nothing worse than tossing away your eye guards due to discomfort, only to suffer an eye injury without them.
As always, in the event of an eye injury, always see an ophthalmologist or your eye doctor right away, or visit the nearest emergency room at once.
About The Author