August 22nd, 2016
by admin3
0
0
Go Team, Go! Back to School!
It's time to welcome the kids back to school and Rand Eye Institute is on your team with information during Children's Eye Health and Safety Month. There are an estimated 42,000 sports-related eye injuries each year and the majority of them happen to children.
We all remember being a kid. The excitement of after-school sports and heading outside of the classroom can seem so urgent and important to an active child. Of course it is, but please be sure that your children don't hit the field, court, diamond or swimming pool without proper eye protection. It really makes a difference.
Because eye injuries are one of the leading causes of vision loss in children, make sure your children always: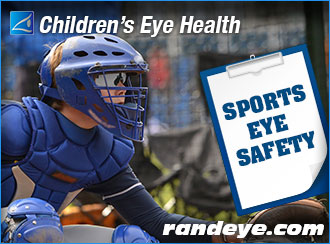 Wear protective eyewear while participating in sports and recreational activities.
Play with age-appropriate toys. Make sure your children avoid toys with sharp protruding parts or any flying or broken pieces that could end up in their eyes. If they're carrying sharp objects, always point them to the ground.
Wear approved goggles when swimming, even in pools. Chlorine helps reduce water-borne bacteria and viruses, but can also wash away the tear film that acts as a defensive shield for the cornea, leaving swimmers prone to eye infections.
Remember, your children learn from good examples. When you as parents also take precautions to protect YOUR eyes, you'll SEE the impression it makes on your children.
Count on Rand Eye Institute to give you important facts and reminders about your child's eye health and safety, especially when it comes to protecting their eyes this back to school season.
About The Author