October 29th, 2014
by admin3
0
0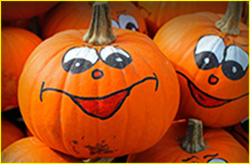 Halloween is a great time to dress up and enjoy the night with friends and family, but every year, hundreds of adults and children are treated in emergency rooms because of eye-related injuries.  These injuries can be prevented by following some of our easy tips and ensure a fun and safe Halloween..
HALLOWEEN EYE SAFETY TIPS:
Never buy cosmetic contact lenses without a prescription from an eye care professional, because it is both illegal and dangerous. Improper use of cosmetic contacts can result in serious eye conditions including bacterial infections, swelling, eye pain, sensitivity to light, pink eye and loss of clarity.

Avoid pointed props such as swords, spears or wands, which can be a danger to children's eyes.

When using makeup or face paint, be sure that it is hypoallergenic to avoid undue reaction around your eye. Don't paint eyebrows or eyelashes, because sweating can cause the paint to drip into your eye.

Make sure your mask or accessories fit properly and do not obstruct or block vision.

Carry a flashlight to illuminate dark paths and walkways. Daytime trick or treating is always a safer option.
Rand Eye Institute wishes everyone a thrilling Halloween weekend. Stay safe!
About The Author