October 26th, 2015
by admin3
0
0
The month of October has brought out cool air, falling leaves and a few ghost and goblins! With Halloween approaching, safety seems to be the key component that parents are considering when planning out the night. Luckily, there is a lot we can do to prevent our Halloween night from turning into a disaster.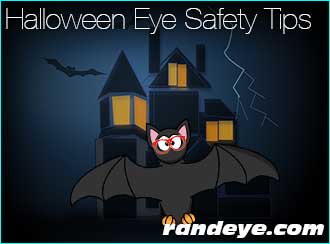 Typically parents and children should inspect all candy before eating and walk through their neighborhoods at night using flashlights and reflective clothing.
Another important area to consider on Halloween is eye safety.
Before selecting your holiday costume, take into consideration a few of these eye safety tips to ensure a fun, safe and spooktacular Halloween!
Avoid costumes that block vision
Masks, wigs and eye patches can help polish off a Halloween costume, but make sure they don't obstruct your field of vision. Some masks can be very dangerous for children, because they block their side vision.
Use makeup and face paint properly
If you do decide to disguise your child's face with makeup instead of a mask, opt for a hypoallergenic option and always check for FDA approval. Keep the makeup away from the eyes. It would be a good idea to keep a damp towel or washcloth in case makeup begins to run while out.
Don't use sharp objects as props
Some costumes just don't seem complete without a sword or wand. When choosing accessories for your child's costume, make sure they are age appropriate and don't pose any harm. It is best to avoid sharp, pointed props, all together.
Don't use decorative contacts that were not prescribed by doctors
Buying any kind of contact lens without an examination and prescription from an eye care professional can be extremely dangerous. It can lead to serious eye disorders and infections, which can even lead to permanent vision loss.
It is also against federal law to sell contact lenses in an unlicensed outlet, such as a costume shop, party store and beauty supply stores. They may be made from inferior plastics or contain toxic dyes.
Carry a flashlight
Give your child a small flashlight to illuminate dark paths and walkways. In low light areas, your child will not be able to see potential hazards like uneven pavement or holes, which are tripping hazards. Flashlights will also make your child more visible to drivers.
It is also a good idea to keep porch and stairways clear and illuminated.
We hope these tips keep you safe during your Halloween adventures!
About The Author