October 5th, 2015
by admin3
0
0
You might think your family home is a fairly safe and unthreatening place, what you didn't know is that your home is a very common place to suffer from eye injuries! More than half of the reported eye injuries occur in the comfort of your own home!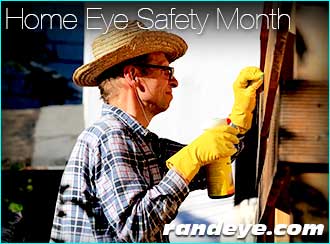 Eye Injury Risk in the House
Using hazardous products and chemicals such as oven cleaner and bleach for cleaning and other chores. (Accidents involving common household products cause 125,000 eye injuries each year).

Splattering hot grease and oil while cooking.
Opening champagne bottles during a celebration.
Drilling or hammering nails into the walls or other hard surfaces ( the screws/nails can become projectiles or fragments can come off the surface.
Using hot objects such as curling irons around the face.
Loose rugs and railings that could potentially cause slips or falls.
Injury Risk in the Yard
Mowing the lawn.

Clipping hedges and bushes.
Debris of dust or falling trees, branches.
Eye Injury Risks in the Garage or Workshop
The use of tools (power or hand).

Working with solvents or other chemicals.
Ding any task that can produce fragments, dust particles or other eye irritants.
Keep in mind, bystanders also face a significant risk and should also take part in the necessary precautions to prevent injuries to the eye.
Remember to always wear eye protection and use equipment in a safe manner. 
About The Author