April 25th, 2017
by admin3
0
0
Just as it's warming up for summer, your kids are warming up their sports skills.
So with that in mind, we've got our EYE on sports eye safety for your children.
As we pointed out in our last article, more than 90% of all eye injuries can be prevented through the use of suitable protective eyewear. BUT, to help you be on the lookout for possible eye injuries this season, here are the most common eye injuries that kids incur: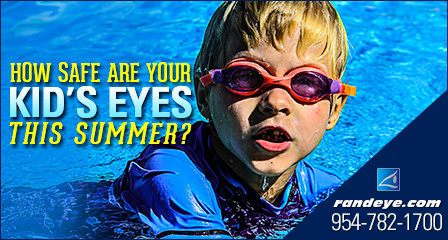 1. Water and pool activities rank #1 for eye injuries. More than 1/3rd of all pool and water activities that affect the eyes happen to kids under the age of 15.
2. Basketball accounts for 1/4th of all eye injuries that will happen to kids 14 and under. Hard to imagine that such a large object like a basketball could cause an eye injury. Of course it's possible, but injuries in basketball are mostly caused by the fingers and hands of opponents, stressing once again, the need for players to wear proper eye protection.
3. Air, gas, spring and BB-guns, though today reclassified as firearms and removed from toy departments, still pose one of the biggest threats percentage-wise to your kid's eyes. More than half of all eye injuries suffered from "toy guns" happen to kids 14 and under. Always stress to your kids that projectile-firing instruments should only be used under the supervision of a qualified adult and at a monitored and regulated facility, and of course, eye protection is mandatory.
4 – 7. Baseball, football, soccer and martial arts take up the next four categories of the highest-ranking eye injuries for kids 14 and under, with nearly 3,500 kids in that age group affected.
The takeaway here is that with summer approaching, your kids will spend a lot more time outdoors interacting in sports and that's good. Just be aware of the need to acquire the appropriate eye protection for them, including instruction for use, so that they have an edge in preventing eye injuries while maximizing fun!
Source: AAO and Prevent Blindness
About The Author