Punctal Plugs
We have glands that produce tears, an aqueous solution or oil secretions, and then we have drainage ducts. At the nasal aspect of both upper and lower lids is a small hole, the beginning of a tube that drains from the eye to the nose. If your eyes are very dry, we insert a tiny polymer stopper into the drainage duct to block it. If we block the lower duct, we cut approximately 50% of the drainage, so the tears that are produced last longer on the surface of the eye instead of being drained through the nose. If the dry eye is very severe, we can block both the upper and lower punctum so that whatever tears produced will have more of an effect.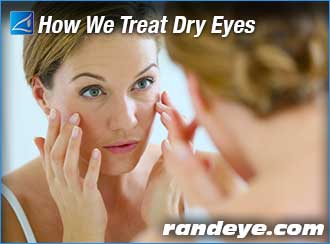 Artificial, preservative-free tears
We lose tears from drainage and evaporation. Artificial lubricating tears and gels are available to add moisture to dry eyes. To lubricate the eye, there are different types of solutions available. There are watery solutions, and we have gel solutions, which are thicker and last longer on the surface of the eye, but may slightly blur vision. We have ointments, which are a greasy petroleum gel-like supplement. Adding a warm compress in the morning washes the ointment out, providing additional relief.
Warm Compresses
Warm compresses stimulate the dilation of the oil pores and make the oily secretions more fluid, similar to when you melt butter with heat. With the oil secretions more fluid, they find the bigger drainage duct and drain, resulting in more oil on the lacrimal surface. We recommend using a washcloth placed in warm water to hold over the eyes for 10 to 20 seconds as it cools off. Reheat it and bring it back to the eye and apply for two to three minutes, so that enough warmth is able to relieve your dry eye symptoms.
A Guide to Dry Eye Prevention
There is no guaranteed treatment to prevent dry eyes, but with the supplementation of omega-3 fatty acids, found in flaxseed oil, salmon, some cereals, walnuts, basil, broccoli and grape leaves, symptoms can be better controlled. Omega-3 fatty acids help the oil secretion from the lid glands. With a healthier oil layer, the evaporation rate and the friction from blinking are less. Artificial tears can also help. If you stare at a computer screen for hours, your blinking rate is diminished. We recommend periodic breaks with the use of an extra drop of artificial tears.
Come See Us
If you feel that you are experiencing symptoms of Dry Eye, schedule a comprehensive eye exam with Dr. Allison Rand, our Dry Eye Specialist. Call 954-782-1700.
Article source: Gabriel E. Velazquez, MD, Academic Director at Rand Eye Institute
About The Author