The desert can be dry. Drinks can be dry. Jokes can be dry, but your eyes? That's no laughing matter. They require a normal flow of moisture so they function properly for good vision and maximum comfort.
It's Dry Eye Month, so here are four fab tips to help prevent dry eyes and give you more vision comfort here in the middle of summer.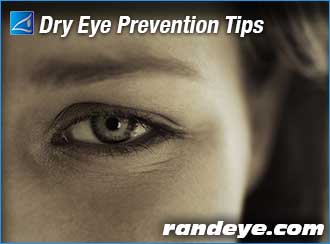 The easiest and fastest way to temporary dry eye relief is to pick up doctor recommended non-prescription artificial tears. These over the counter lubricating eye drops may help relieve dry eyes, though not permanently. Keep some handy in your purse or pocket for the times a day when you may need to refresh.
A warm compress placed over the eye in the morning can wash out or melt the oily secretions blocking the flow of tears, which cause the eyes to feel dry. Just a face towel placed in warm water and held over the eye for 10 or 20 seconds, repeated a few times, may do the trick. If you find no relief then it's definitely time to schedule an eye exam.
Give up smoking. Smoking exposes your eyes to high levels of oxidative stress, plus dryness, smoke and heat.  Smoking increases the risk of developing a variety of conditions that affect your eye health.
Are punctal plugs an option for me? Ask your ophthalmologist-dry eye specialist about punctal plugs: tiny stoppers that control the flow of tears from your tear ducts. This is a simple in-office procedure that may bring great relief to your eyes.
Contact our Dry Eye Specialist Dr. Allison Rand at The Rand Eye Institute for more details and to schedule your next eye exam.