Hurricane season is June 1st through November 30th. Forecasters at NOAA report that South Florida is in a "Hurricane Drought", since our area has not endured a direct hit since Wilma crossed our state on October 24, 2005. Forecasters agree that now, more than ever, we should be alert and take the necessary precautions to prepare for an emergency, should we get a hurricane or other significant weather event.
Here are some hurricane tips for protecting your eyes: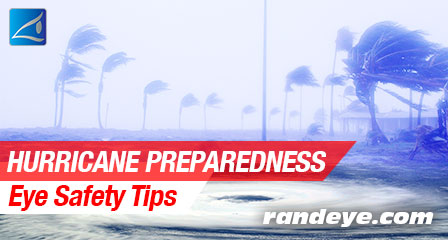 Safety First
It may sound simple, but always wear eye protection when making hurricane preparations to your home. Even the smallest debris from drilling, or hammering nails into wood or concrete, could end up in your eyes. The easiest first step is to always wear goggles or protective eyewear.
Make sure your tools are in good working condition, the hammer's head is secure and that the nails and screws are not rusty or bent. Always wear a tool-belt when climbing ladders so that you can use your hands to safely steady yourself.
If glass is breaking during a storm, put on protective eyewear and stay out of the path of flying glass or debris. Seek shelter in a protected area of your home.
Read and follow label directions. Cleaning fluids, chemicals and gases could be dangerous, especially in combination with other substances. Wear gloves and protective eyewear at all times.
Work with chemicals in a well-ventilated area and be sure that spray nozzles point away from you and others. Always wash your hands thoroughly afterward.
Young children should not participate in dangerous storm preparation. If they are nearby, always provide protective eye wear or safety goggles for them. When working near debris or construction, wear sturdy shoes, not sandals or slippers.
Avoid swimming in a pool or visiting a water attraction that may have become contaminated during a storm. Because of a power-outage or if there is storm debris in the pool, the water may be unsafe.
First Aid Eye Care
Always have purified or bottled water on hand to rinse your eyes in the event that dust or other particles get into them. Do not rub your eyes, rinse them with purified water.
Avoid using tap water in your eyes after a hurricane, since stagnant water may be contaminated. Again, have plenty of bottled water on hand.
If debris hits the area around the eye, apply cold cloths for 15 minutes to reduce swelling. If swelling persists, see your doctor as soon as possible.
If a sharp object like a twig or nail enters your eye, do not try to remove it yourself. Be careful not to apply pressure to the affected area. Go to a hospital or emergency room as soon as you safely can.
Beware of chemicals splashing into your eyes, especially cleaning fluids, fuel or gasoline. If that happens, gently wash the eyes with purified water for at least 10 minutes. Go to a doctor or emergency room immediately. Never use a barbeque grill inside the home.
Prepare Medicine and Supplies in Advance.
Have a plentiful amount of your eye medications on hand as pharmacies may be closed during and after a storm. Store them in a clean, dry area for easy access.
Keep eyeglasses and contact lens supplies where you can easily find them, including rewetting drops to refresh your eyes as needed.
There is often so much to do and much confusion during a hurricane, but always keep your eyes top of mind when preparing for a storm.
About The Author