August 8th, 2016
by admin3
0
0
At Rand Eye Institute, we've been sharing helpful tips on getting your kids ready for back to school by reminding you that they should have their vision checked before the school bell rings.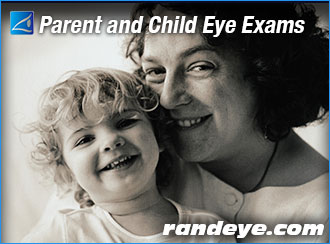 But here's a good suggestion: Why not make a dual eye exam appointment? Consider having your vision and your child's vision checked all in one visit, after all, August is "National Eye Exam Month".
By scheduling a comprehensive eye exam at Rand Eye Institute, you could be heading off future vision problems now, especially if you have diabetes or have a family history of vision problems.
So with vision on our mind this month, keep good vision in the family. Call or "Click" to schedule a dual eye exam* for you and your son or daughter. From our family at Rand Eye Institute, to yours, have a safe Fall season and a successful jump-start to a successful school year.
Know your Rand Eye-Q: Did you know that ophthalmology care is covered under your medical insurance and not your vision plan, this is a common misconception. Please feel free to call us to see if our specialists are participating with your medical insurance.
*A dual eye exam appointment is considered two separate appointments. Ask our appointment specialist for more information when scheduling your appointments.
About The Author