November 30th, 2015
by admin3
0
0
The holiday season is finally here!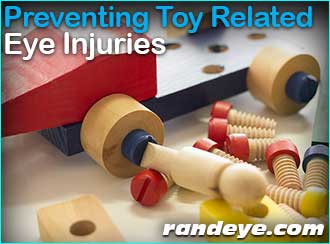 As we gather with friends, family and loved ones it is important that we factor in their safety to help promise a safe, happy time.
No one chooses gifts with the intent to cause harm, but what many people do not realize when purchasing some popular children's toys, is that is what can happen.
Each holiday season, toys and sporting equipment, that were meant to bring joy, are actually responsible for thousands of eye injuries to children?
But do not let that ruin the holiday spirit. These eye injuries are totally preventable!
Parents can keep their children safe by demonstrating the proper use of toys, purchasing age-appropriate toys and supervising them while in use.
Safe Toy Checklist:
Read all warnings and instructions.

Make certain children wear appropriate eye protection for sports (face shields, helmets).
Avoid toys with sharp or rigid points, spikes, or projectile-firing parts.
Inspect toys for safe, sturdy construction. Toys should be durable and able to withstand impact.
Look for the letters "ASTM" which means the toys met the national safety standards set by the American Society for Testing and Materials.
Repair or replace damaged or defective toys.
Try not to purchase flying toys. Bows, arrows, slingshots, and darts can be extremely dangerous.
Check for age labels on the toys and be sure to choose toys that are appropriate for a child's age and maturity.
Do not give toys with small parts to young children. They tend to put them in their mouths, increasing the risk of choking.
About The Author