We've SEEN your Independence, and we like what we see!
Rand Eye Institute celebrates Senior Independence Month. We salute our seniors who have the Vision to live in the new millennium in a positive and upbeat manner. As we get older, we realize that we need the help of friends and family in our day-to-day lives. Maybe we can no longer safely commute in rush hour traffic, carry groceries up three flights of stairs, or even see things as clearly as we used to. The truth is, no one wants to feel helpless and dependent upon others for everything, and while sooner or later we'll have to surrender some of those tasks, there are still ways to feel independent and useful in your own life. Here are some of the ways when it comes to vision: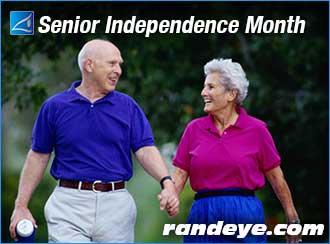 Take a Drive on Independence Road
We all enjoy a Sunday ride or a scenic road trip, navigating towards making new memories along the way and vision plays an important role in achieving this. If you love dinners out with friends or night-time entertainment, having restrictions on your driving will surely place a limitation on your fun. When you start to experience difficulty driving at night and seeing increased glare and halos from oncoming headlights, it's time to visit your ophthalmologist. You may be experiencing the signs of cataracts, but great news, with the latest advancements in laser cataract surgery you may regain your independence and get behind the wheel in no time. So jump back in the driver seat, take control of your vision and buckle up-the road ahead awaits you!
Stay Connected and Up to Date
Do you remember the days when you had to get up from the couch to change the channel? Well, just like remote controls, technology is your friend and helps you stay in touch with friends and family. To be a most effective digital communicator you need clear vision, not just at a distance, but up close and clear intermediate vision helps you see your laptop or smartphone in focus. A small laptop with a wireless connection is all you need. You can download free video-chat programs so you can "connect" with your kids and grandkids, or one of the most popular "face-to-face" apps available on mobile phones. Your local technology stores even offer free group classes to teach you how to do it all. E-mail and texting are great ways to send and receive photos of the kids too. Connectivity promotes vitality and makes you feel good that you're in touch with today, and with the exception of the purchasing a computer or mobile device, it's virtually free. Many restaurants, coffee shops and malls offer free wireless "wi-fi" connections, while libraries have computers for use at no charge. So log on and live life with new connections!
Healthy Eating Can Equal Healthy Vision
Being independent means that YOU choose what you eat. And while your menu may be all your own, making informed food choices can help to improve your eye health. Here are five foods your eyes wish you would include in your diet:
Carrots, rich in beta-carotene. You SAW that coming!
Leafy-greens, which are packed with lutein and, lower the risk of macular degeneration and cataracts.
Eggs. The yolk is also a prime source of lutein and Zeaxanthin as well as zinc, which helps reduce the risk of macular degeneration.
Citrus and berries, which are packed with vitamin C. Can you say "smoothie"?
Almonds are filled with vitamin E and one ounce daily just about gets it done.
Fish, like tuna, salmon, mackerel, trout and even anchovies add the fatty acid, DHA, which is good for your eyes, see?
And Finally, your Independent Opinions Are All Your Own
We all have our own voice. While not everyone will agree with you and your opinions, you should still believe in yourself, after all, you come with a lifetime of experiences and no one can dispute that. You can offer your opinions without being confrontational. So say what you believe, believe what you say and believe in yourself, because you're awesome!
So starting today: Get connected, take care of yourself, let others contribute to your well-being, express your opinions on the move and make healthy choices at the dinner table, and, before long, you'll find that you're much happier in your senior life.