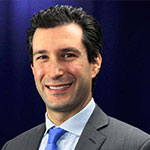 Carl Danzig, M.D.
Director, Vitreo-Retinal Services
I am a true epicurean when it comes to different foods, and there is no time of the year when food is more discussed than now, as we enter the Holiday season.  As a retina specialist, I see more and more diabetic patients every year.  The topic of what's on the Holiday table is a common point of discussion with my patients.  It's interesting that November is Diabetes Awareness Month, coinciding with Thanksgiving (and Hannukah this year) and preceding Christmas.  For everyone, this a joyous time of the year, but for diabetics, the traditional tastiness of the holidays has to be adjusted.  The ooey gooey goodness of candied sweet potatoes, chocolate desserts, and sugar-laden cakes can cause blood glucose levels to soar.   When presented with these scrumptious options, a small morsel to taste may be ok, but better options exist for these patients.
Diabetes is a fast-growing epidemic through America and the rest of the world.  It is the leading cause of blindness in patients under 65.  The treatment options for patients with diabetic retinopathy are more varied than ever before; however, early detection and close monitoring by an eye doctor can save the vision of many patients.  Of course, careful watch of one's blood pressure and blood glucose can save patients from, or at the very least delay, vision impairment.  There exists no time of the year when this is more important than right now, as the winter holidays are upon us.