There is a lot you can do to ensure an easy life for seniors who choose to live an independent life. Here are some small changes you can make, that will help your loved one live an easier life.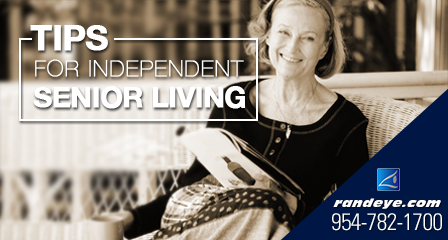 See an Ophthalmologist
Those with low vision can improve their quality of life through low vision rehabilitation, which teaches people how to use their remaining sight more effectively and can be arranged through an ophthalmologist – a medical doctor specializing in the diagnosis, medical and surgical treatment of eye diseases and conditions.
Make things Bigger
Sit closer to the television or to the stage at performances. Get large books, phone dials and playing cards. Also, carry magnifiers for help with menus, prescription bottles and price tags.
Make things Brighter
Make sure areas are well lit and cover shiny surfaces to reduce glare. For instance, drink coffee from a white mug and always use a felt-tipped pen with black ink.
Use Technology
Many of today's newer technologies have applications that can help with low vision. For example, e-readers allow users to adjust the font size and contrast. Many smartphones and tablets can be used to magnify print, identify cash bills and provide voice-navigated directions.
Organize and Label
Designate spots for your keys, wallet and frequently used items in your refrigerator. Mark thermostats and dials with high contrast markers from a fabric store; label medications with markers or rubber bands; and safety-pin labels onto similarly colored clothing to tell them apart.