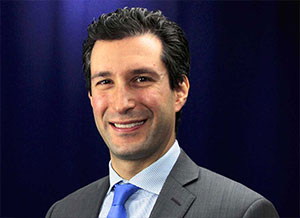 Carl Danzig, M.D.
Director, Vitreo-Retinal Services
As we turn the calendar to February, the brutal winter continues to pummel our friends and families in the North, while we enjoy the warmth and sunshine down here in Florida.  For many Americans, and many of my patients, life can be difficult due to Age-related Macular Degeneration (AMD).
Millions of Americans are affected with approximately 200,000 new cases of AMD being diagnosed every year.  Macular degeneration is the leading cause of blindness in this country; however, the majority of patients with AMD never go blind.  AMD affects the macula, the area of the retina that is responsible for sharp, central vision.  Symptoms may include a change a vision or new waviness to what should be straight lines.  Smoking is the only known risk factor that we can modify ourselves.  Other factors such as race and family history are out of our control.  In patients with AMD, retina specialists recommend eye vitamins with the label AREDS 2 (which stands for Age Related Eye Disease Study 2).  It is important to have regular dilated eye exams to check for AMD and imperative if you experience any of the above symptoms.  Early detection can mean the difference between saving vision and losing vision.