Nothing says, "Welcome to Fall" like the glow of a bright orange pumpkin patch: Jack-o-lanterns lined up as far as the EYE can see! Pick out a nice, healthy and robust pumpkin for your Fall Halloween decorations then carve out some family fun by adding your own decorative design to his mug.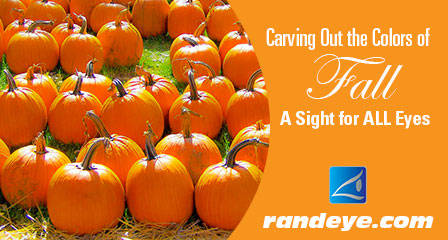 There's lots to keep an EYE on this month, including the little ones, who'll be trick-or-treating on Monday Oct. 31st. We'll have our Halloween Safety Tips for you later this month. Please read them, print them out and share them with your neighbors, because VISION plays the biggest role in the safety of all of our children.
Savor Super Sight 365 Days a Year
We'll be recognizing World Sight Day on October 13th, but at Rand Eye Institute, we remind you that it's important to have good vision the other 364 days of the year too, so why not set aside time to have a complete vision screening?
If you have cataracts, consider that cataract surgery can help you to live longer. A recent study by The American Academy of Ophthalmology of 1.5 million patients over a 10-year period, found that nearly 30% had a reduced adjusted hazard of mortality, compared with those who did NOT have cataract surgery. That says, in a nutshell, that having cataract surgery can help you to live a longer, more fulfilling life.
Why is that? Cataract surgery improves the patient's ability to care for themselves. Through better vision, they remain physically and socially active, interact more with friends and family and have an overall better visual experience. You don't have to live with cataracts, especially when the FDA has approved laser cataract surgery as safe and effective, and it's here NOW at The Rand Eye Institute. Click here to schedule your evaluation.
All this vision knowledge we share with you, will help you up your Rand EYE-Q, so that you can have a safe and happy fall season.