What Causes Dry Eyes?
Our tears serve a purpose, they are designed to provide much needed moisture to our eyes. Later in life, some of us can experience dry eyes, a condition in which the eyes do not provide the moisture we need.
Dry eye is a multi factorial disease. Sometimes it can occur if the immune system attacks the lacrimal glands and our eyes fail to produce enough tears. It also may be secondary to chronic inflammation of the lids, when the oil glands in the lids don't produce enough oil. It can also be a combination of both.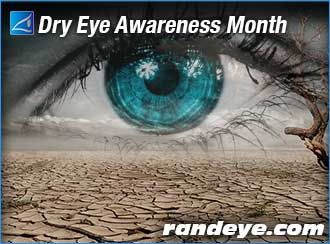 Who is most Likely to Experience Dry Eyes?
Dry eye is a condition more commonly found in females, especially those who are post-menopausal. It can, however, be found in either gender, typically after the age of 50 and more commonly after age 65. It is important to know that dry eyes can occur at any age.
How You Can Tell if You Have Dry Eye
Symptoms include eye irritation or the sensation of a foreign body in the eye. You might experience discomfort after a few minutes of reading, and strangely enough, even watery eyes. Your eyes may sting or burn. You may experience dry eye in specific situations, such as on an airplane, in an air-conditioned room, while riding a bicycle, in an open convertible or after looking at a computer screen for an extended period of time.
How Could Watery Eyes be a Symptom of Dry Eyes?
It seems counterintuitive, but tearing can be a sign of dry eye. We have two kinds of tears: the basal secretion tears that keep the eyes lubricated, and reflex tears, which are watery and abundant. Normally, reflex tears occur after a stimulus, such as a grain of sand that becomes trapped in your eye. The natural defense of the ocular surface is to try to wash it out. It can also be a reflex to an emotional stimulus, such as crying because you're sad or if you are slicing an onion. If you have insufficient basal secretion tears, and your eyes get irritated, this can stimulate reflex tears.
How Often We See Dry Eyes at Rand Eye Institute
Dry eye is very common. Most people who have had eye exams know that artificial tears are available. Many patients come to Rand Eye Institute for other reasons, but during the eye exam we may find they have dry eyes in addition to other conditions such as cataracts or glaucoma. Many patients may have had symptoms for awhile, but have not been diagnosed with dry eye until we examine them and connect their symptoms with the correct diagnosis.
Article source: Gabriel E. Velazquez, MD, Academic Director at Rand Eye Institute