As more of today's workforce use computer monitors in the office, more often, workers are experiencing a new type of eye fatigue known as:
Computer Vision Syndrome
While there is no evidence that Computer Vision Syndrome causes any long-term damage to the eyes, regular computer use can be the source of significant eyestrain and discomfort.
If you have Computer Vision Syndrome, you may be experiencing some or all of these symptoms: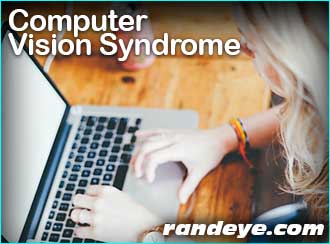 Blurred vision
Double vision
Dry, red eyes
Eye irritation
Headaches
Neck or back pain
Untreated, these symptoms can have a real effect on your work performance.
There is a way to relieve Computer Vision Syndrome just by making a few simple changes in your work environment.
Cut the glare
Changing the lighting surrounding your environment can reduce glare on your screen. Consider adding a movable shade to a nearby window. Lower the shade and move the monitor to the side slightly until the glare disappears. You might ask your employer to install a dimmer switch to the overhead lights, or add a desk lamp with a movable shade that distributes light evenly over your workspace. Adding a glare filter over your monitor screen can also help protect your eyes.
Rearrange your workspace
Research shows that the optimal position for your computer monitor is slightly below eye level, or about 20 to 28 inches away from the face. At this position, you should not have to stretch your neck or strain your eyes to see what's on the screen. Use a copy stand to place any printed materials you may be working from on it so you don't have to look up and down at the desk while you type.
Give your eyes a break 
Look away from the screen every 20 minutes or so, gaze out the window or scan the room for about 20 seconds to rest your eyes to give them a chance to refocus and rest. Blink often to keep your eyes moist. If your eyes are dry, try using sterile lubricating eye drops.
Tweak your computer settings 
Try adjusting the brightness, contrast and font size until you find the best settings for your vision. Most writing software programs have a percentage adjustment tab, commonly found at the very top center of your document that allows you to increase the font appearance temporarily and restore it when the document is complete.
Visit your eye doctor regularly for an exam, or schedule a comprehensive eye exam at The Rand Eye Institute. Let the doctor know about eyestrain or any other problems you might be experiencing at work. Call 800-782-1711